2-25HP Cast Iron Close-Coupled Vacuum Pump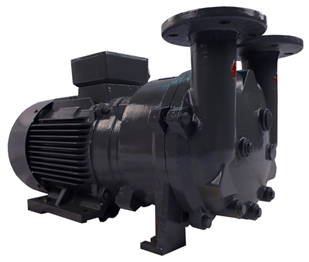 Our cast iron close-coupled vacuum pumps are the economical choice for small single stage close-coupled liquid ring vacuum pumps. Designed as drop-in replacements for Siemens 2BV series, they are available in 2-25 HP (18-353 CFM). Standard construction is cast iron with the Stainless Steel 304 impeller and Viton elastomer mechanical seal. NES 18-342 CFM single stage liquid ring vacuum pumps are performance tested and include a 1-year warranty.

Models: NCC-20,35,55,75,115,160,200,300 and 350
Power range: 2 HP to 25 HP
Capacity range: 18 CFM to 342 CFM
Max vacuum: 26" Hg
MOC: Cast iron/stainless steel 304/stainless steel 316
Drop-in replacement for classic Siemens* 2BV series.
Compact design reduces size and costs.
Standard construction is cast iron.
Optional 304 or 316 stainless steel construction.
Standard Single Component Seals - John Crane 59U with Viton Elastomer.
Parts and repair kits readily available.
Available as a bare pump or engineered systems.

Chemical and pharmaceutical processing
Deaeration
Extruders
Central vacuum systems
Filtration
Solvent distillation/Vapor recovery
Sterilization
Autoclaves
NCC Series: Close-Coupled Pump All Models

---
See Installation of mechanical seal in NCC series vacuum pump.