Tuthill (Kinney): KLRC Series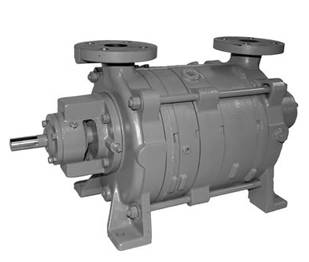 Small Two Stage Vacuum Pumps
NES offers the Tuthill (also known as "Kinney") KLRC small two stage liquid ring vacuum pumps for application with high vacuum requirements as low as 0.1"Hg A (4 Torr). These pumps come standard with stainless steel rotors, mechanical seals which make them extremely reliable and cost-effective. Kinney vacuum pumps are also available with double mechanical seals and piping plans to meet API requirements. *Made in the USA

Models: KLRC-75, 100, 125, 200, 300, 525, 526, 950 and 951
Power range: 5-HP to 100 HP
Capacity range: 75 CFM to 950 CFM
Max vacuum: 0.1"Hg (4 Torr)
MOC: Cast Iron / SS standard / All SS

Standard construction includes stainless steel rotor and mechanical seals.
Capable of reaching vacuum levels as low as 4 Torr (5.3 mbar absolute).
Ideally suited for pumping wet mixtures.
Complete engineered system solutions available.
Self-contained liquid recovery and recirculation are available.
Equipped with center-anchored tie rods which allow access to both ends of the pump without total disassembly.

Chemical and pharmaceutical processing
Vapor recovery
Deaeration
Extruders
Crystallizers
Central vacuum systems
Tuthill (Kinney) KLRC Series: Small Two Stage Pumps All Models